BATH TUBS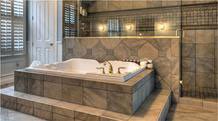 Add the perfect bathtub to your home or business when you shop online with Izzi Bath. Our business is proud to provide you with a huge array of high-end bathtubs for your needs, including walk-in bathtubs, corner bathtubs, and oval drop-in tub selections. Whether you are building a new property or are seeking something special for your next remodeling job, our business unique and exciting bathtubs you won't find from other producers. You'll find our various styles in a wide range of widths: 30", 32",36", 42", 48", 60" and even wider. Our tubs are made from custom-grade continuous cast acrylic from Lucite.
Our business is one of the few manufacturers out there that offer combination air bath and hydro-therapy systems to give you a relaxing and therapeutic bathing experience. Furthermore, each bathtub is encased in foam insulation to help keep your bath water warm for a long time. Read about our walk-in bathtubs, oval drop-in tub options, and corner bathtubs and pick out a selection for your needs. We are confident that you'll be pleased with the item you order.
Click here to see all of our stay hot baths
Oval Baths
Oval baths, also called drop in bathtubs, sit on top of the deck in you tub area. You can use an oval bath if you want to show off more of your tile or granite and your tub will not be used as a shower/bath combination. Oval tubs can also be used in a corner installation and look great with curved walls and decks. Some ovals can also be under-mounted. However, there is no real benefit to using oval versus rectangular other than the "look" you are going for and your preference.
Click here to view all of our oval baths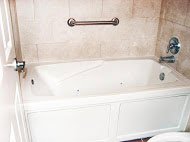 Skirted Baths
Skirted baths are the perfect bath for an alcove or shower/bath combination. Many skirted tubs are used in remodels or in tight installations because the front wall is included with the bath. A skirt is easy to clean and since it is integrated with the tub has a really nice look that is especially nice in second bathrooms. Skirted tubs can also be jetted with any of our bathing systems, and the front panels on the skirt give easy access to the equipment—even in a condo or small home.
Click here to view all of our skirted baths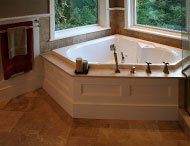 Corner Baths
Corner baths are used in many bathrooms and can save on floor space. They are often called 60"x 60" because the two back walls of the tub are almost always those dimensions. However, here at Izzi we also offer a 54" x 54" corner bathtub for smaller bathrooms. Even though most corner baths are 60" x 60", there is still a lot of variety in both style and size. The front diagonal of the tub can range anywhere from 22" up to 35", and that number denotes how "big" the tub is and how far it comes out into the bathroom.
Click here to view all of our corner baths
Search by Size